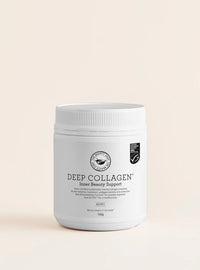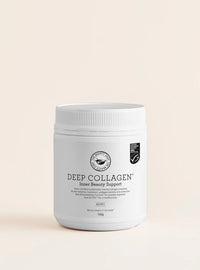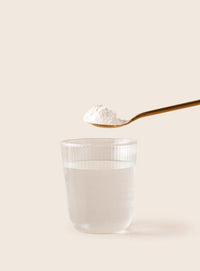 DEEP MARINE
COLLAGEN


™ Inner Beauty Support Berry

strengthen. firm. support.

100% clean, certified sustainable marine collagen peptides that contribute to skin elasticity, hydration, collagen density and protection deep within the skin. This fine powder also contains Bioavailability Factors™—the digestive enzyme bromelain and our exclusive probiotic strain, Lactobacillus rhamnosus GUT5Y™—for enhanced absorption.

Available in Berry, DEEP COLLAGEN™ contains hydrolysed marine collagen that is sourced from wild-caught, deep-sea North Atlantic cod, exclusively and sustainably sourced in accordance with stringent Marine Stewardship Council (MSC) standards.

The most abundant protein in our bodies, collagen is essential for plump, firm skin. As we age, our body's ability to produce collagen proteins naturally declines, leading to fine lines, wrinkles and loss of moisture. Hydrolysed marine collagen contributes to skin elasticity and hydration, supporting healthy collagen density and helping to protect collagen deep within the skin.

Good to know: FODMAP friendly, non GMO, no artificial flavours, preservatives or colours, no added gluten, dairy, soy, or eggs. Contains fish.

Mix 1 ½ tsp (3g) of The Beauty Chef marine collagen powder into 150mL of water or your favourite drink and consume immediately.

DEEP COLLAGEN™ can be enjoyed up to 3 times per day in chilled or room temperature beverages or food and can be taken with any other Beauty Chef product.

Storage: Store below 25°C, away from sunlight in a cool, dry place. Always use a dry spoon and consume within 8 weeks of opening.

Product warnings: This elixir is not a sole source of nutrition and should be consumed in conjunction with a nutritious diet and appropriate physical activity. Not suitable for children under 15 years of age or pregnant women: Should only be used under medical or dietetic supervision.

Berry: MSC-certified sustainable marine collagen (97%), natural wild berry flavour, bromelain derived from pineapple (0.6%), Australian mixed berry powder (blueberry, raspberry, strawberry) (0.5%), natural sweetener: steviol glycosides, Lactobacillus rhamnosus GUT5Y™ (0.02%).