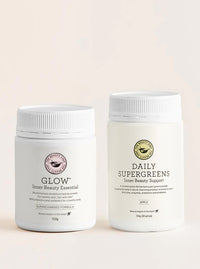 14% OFF

|

SAVE $20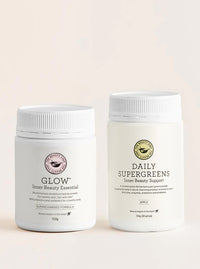 GLOWING GREENS KIT
glow® inner beauty essential + daily supergreens inner beauty support
With prebiotics and probiotics for digestive wellbeing and skin health, this bio-fermented duo includes our bestselling beauty powder and super-greens formula.
GLOW Inner Beauty Essential: A daily beauty powder for radiant skin and gut health, now with a SUPERCHARGED FORMULA. With 18 Certified Organic wholefoods including bio-fermented maqui berries, queen garnet plum and pomegranate fruit peel extract, vitamin C to help boost collagen production and zinc to support healthy hair and nails. Plus provitamin A, broad-spectrum B vitamins and more probiotics and postbiotics thanks to our more potent fermentation process, this berry-flavoured blend promotes luminous skin—from the inside out.

DAILY SUPERGREENS Inner Beauty Support: A bio-fermented super-greens powder to help the body realign and support your natural cleansing processes, now with a SUPERCHARGED FORMULA. With fiber from banana starch and Jerusalem artichoke, choline to aid liver function and fat metabolism, plus enzymes, prebiotics and probiotics for a healthy belly.
Mix 1 tsp (5g) of GLOW and 2 tsp (5g) of DAILY SUPERGREENS in 200mL of water, a smoothie or your favourite drink and consume immediately. Can be taken together or separately. For optimal results, both should be consumed daily in chilled or room temperature beverages. This food supplement is not a sole source of nutrition and should be consumed in conjunction with a nutritious diet and an appropriate physical training or exercise program. Keep out of reach of children. Not suitable for children under 15 years of age or pregnant women: should only be used under medical or dietetic supervision.


GLOW Inner Beauty Essential: Bio-fermented Nutrient Blend with Flora Culture™ (chickpeas*, mung beans*, brown rice*, sweet potato*, lentils*, queen garnet plum, turmeric powder*, buckwheat*, millet*, quinoa*, lemon juice, sea minerals, anthocyanins (from black carrot), Dunaliella salina*, linseed*, pepitas*, sunflower seeds*, maqui berry powder*, molasses*, agave*, ginger powder*), guar galactomannan, anthocyanins (from black carrot and grape skins), natural wild berry flavour, biologically active vitamin B complex from quinoa sprouts (Panmol®)*, pomegranate fruit peel extract, citric acid, zinc ascorbate, stevia leaf extract, Saccharomyces boulardii, natural beta carotene, Lactobacillus rhamnosus GUT5Y™, Kakadu plum *Organic ingredients

DAILY SUPERGREENS Inner Beauty Support: Cleanse Blend (green banana resistant starch powder, sprouted pea fibre powder*, Jerusalem artichoke inulin powder*, barley grass powder*, choline bitartrate, milk thistle extract powder, globe artichoke extract powder, apple cider vinegar powder*, collard greens powder*, kale powder*, spinach powder*, chlorella powder*, spirulina powder*, Digestive Enzyme Blend (amylase, protease, lipase, lactase and cellulase), broccoli sprout powder*, Lactobacillus rhamnosus GUT5Y™), Bio-Fermented Nutrient Blend with Flora Culture™ (chickpeas*, mung beans*, brown rice*, sweet potato*, lentils*, buckwheat*, millet*, quinoa*, turmeric powder*, anthocyanins (from black carrot extract), sea minerals, linseed*, pepitas*, sunflower seeds*, maqui berry powder*, molasses*, agave*, queen garnet plum*, ginger powder*, lemon juice concentrate), natural apple flavour, thickener: acacia gum powder, natural sweetener: stevia extract powder*. *organic ingredients