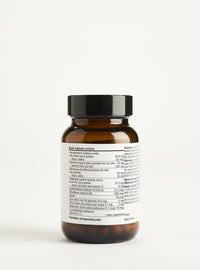 SUPERGENES™ Menopausal Balance
supergenes™ menopausal balance
Feel more balanced with this holistic menopause support formula. This intensive herbal probiotic contains a unique blend of herbal extracts and nutrients including sage, schisandra and hops that are traditionally used in both Western Herbal Practice (WHP) and Chinese practice to help support the body during menopause, as well as our exclusive probiotic strain GUT5Y-5™, for a complete head-to-toe solution.
Helps with normal body temperature balance.
Traditionally used in Chinese practice, schisandra and dong quai work synergistically to support normal body temperature balance during menopause.
Supports restful sleep.
This complex formula is designed to be taken before bed and contains hops, traditionally used in Western Herbal Practice to support a night of restful sleep. It can also help to support collagen formation.
Contains our exclusive probiotic strain.
GUT5Y-5™ has been specifically chosen for this formula to supercharge Menopausal Balance for optimal results.
Key Benefits
- Exclusive GUT5Y™ probiotic strains
- Evidence-based herbs
- Mag stearate free
- Clean capsules
- Vegetarian & vegan friendly
Take 2 capsules daily at bedtime, with water, or as professionally prescribed. If symptoms persist, talk to your health professional.
Storage: Store below 25ºC in a cool, dry place away from sunlight.
Do not use if tamper evidence seal is broken.
Children and Pregnant Women: Not recommended for use by pregnant and lactating women, or women likely to become pregnant.
KEEP OUT OF REACH OF CHILDREN.
Hero Ingredients

SAGE
Used in Western Herbal Practice (WHP) to support normal temperature balance during menopause.
HOPS
A soporific used in WHM to support restful sleep.
DONG QUAI
Commonly referred to as the 'female herb' and used in Traditional Chinese Practice (TCP) to support the body during menopause.
SCHISANDRA
Traditionally used in TCP to support normal body temperature during menopause, this adaptogenic ingredient also helps support the liver.
GUT5Y-5™
Our exclusive probiotic strain provides millions of organisms to further supercharge this blend for optimum results.
Full Ingredient List

Each capsule contains Angelica polymorpha (dong quai) extract dry concentrate 112.5 mg Derived from dry root 2.25 g Salvia officinalis (sage) extract dry concentrate 272.73 mg Derived from dry leaf 1.5 g Schisandra chinensis (schisandra) extract dry concentrate 35 mg Derived from dry fruit 875 mg Ziziphus jujuba var. spinosa (ziziphus) extract dry concentrate 33.34 mg Derived from dry seed 500 mg Humulus lupulus (hops) extract dry concentrate 33.34 mg Derived from dry fruit 250 mg Malpighia glabra (acerola) fruit juice powder 68.75 mg Equiv. to ascorbic acid (vitamin C) 11 mg Lactobacillus reuteri (GUT5Y-5™) 1 billion organisms. Contains encapsulating aids.