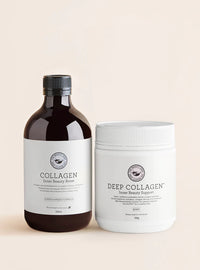 14% OFF

|

SAVE $19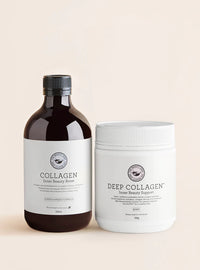 ULTIMATE COLLAGEN DUO
collagen + deep collagen™
The perfect introduction to our collagen collection, this dynamic duo supports skin elasticity, firmness, hydration and collagen production—whilst also protecting your skin from free radical damage, protecting and preserving your natural collagen stores.
COLLAGEN Inner Beauty Boost: A vegan drink concentrate with vitamin C, which contributes to normal collagen formation for the normal function of skin, and zinc, which contributes to normal skin structure and the maintenance of normal hair and nails. Still with bio-fermented papaya juice concentrate, now with added gotu kola, Queen Garnet plum puree, organic goji, acai and maqui berries. DEEP COLLAGEN™ Inner Beauty Support: 100% clean, certified sustainable marine collagen peptides that contribute to skin elasticity, hydration, collagen density and protection deep within the skin. This fine powder also contains Bioavailability Factors™—the digestive enzyme bromelain and our exclusive probiotic strain, Lactobacillus rhamnosus GUT5Y™—for enhanced absorption.
Mix 1 tbsp (15ml) of COLLAGEN and 1 ½ tsp (3g) of DEEP COLLAGEN™ in 200mL of water, a smoothie or your favourite drink and consume immediately. Can be taken together or separately.
DEEP COLLAGEN™ can be enjoyed up to 3 times per day. For optimal results, both
COLLAGEN Inner Beauty Boost: Flora Culture™ Bio-Fermented Blend (fermented papaya fruit juice (42%), blueberry juice concentrate, queen garnet plum puree, cellulose gum, lactic acid, zinc ascorbate, anthocyanins (from black carrot), sea minerals, goji berry juice powder*, acai juice powder*, fermented papaya fruit extract (0.05%), papaya leaf extract (0.05%), gotu kola leaf extract, maqui berry powder*, grapeseed extract powder (0.05%), redcurrant and blackcurrant extract powder, pomegranate fruit peel extract (0.01%), Lactobacillus rhamnosus GUT5Y™ (0.002%)), glycerol, natural flavourings (wild raspberry bitters), stevia leaf extract. *Organic Ingredients

DEEP COLLAGEN™ Inner Beauty Support Berry: MSC-certified sustainable marine collagen (97%), natural wild berry flavour, bromelain derived from pineapple (0.6%), Australian mixed berry powder (blueberry, raspberry, strawberry) (0.5%), natural sweetener: steviol glycosides, Lactobacillus rhamnosus GUT5Y™ (0.02%).